Are we on air? Export Radio journal, entry #1 From BBC's refurbished studios to the Ridley Road Social Club, a radiophonic journey at Export Radio.
Louise Gholam
December 22nd, 2020
November 25th 2020, Ridley Road Social Club, 8pm.
"Night night folks! Cheers to all who tuned in today!"
We're finishing up our last instagram post of the session as we are closing the recording booth. A last quick look around the space and we leave, exhausted but thrilled!
What a blast! We live-broadcasted for nearly 6 hours. Musical interludes, spoken word, acoustic folk music, roundtable discussions, podcasts…
Today at Export Radio we explored this provocation: LOOKING FORWARD?
In the current madness we're living in, what does it mean to think about FUTURE(S) of our practices? What does FORWARDNESS mean today?
Are we PROGRESSING? Are we BACK_PEDALLING all together? Ursula K. Le Guin wrote,
"It is good to have an end to journey toward; but it is the journey that matters, in the end." (The Left Hand of Darkness).
This feels even truer today.
Export is nearly 1 year old now. This makes me so enthusiastic for the journey's continuation!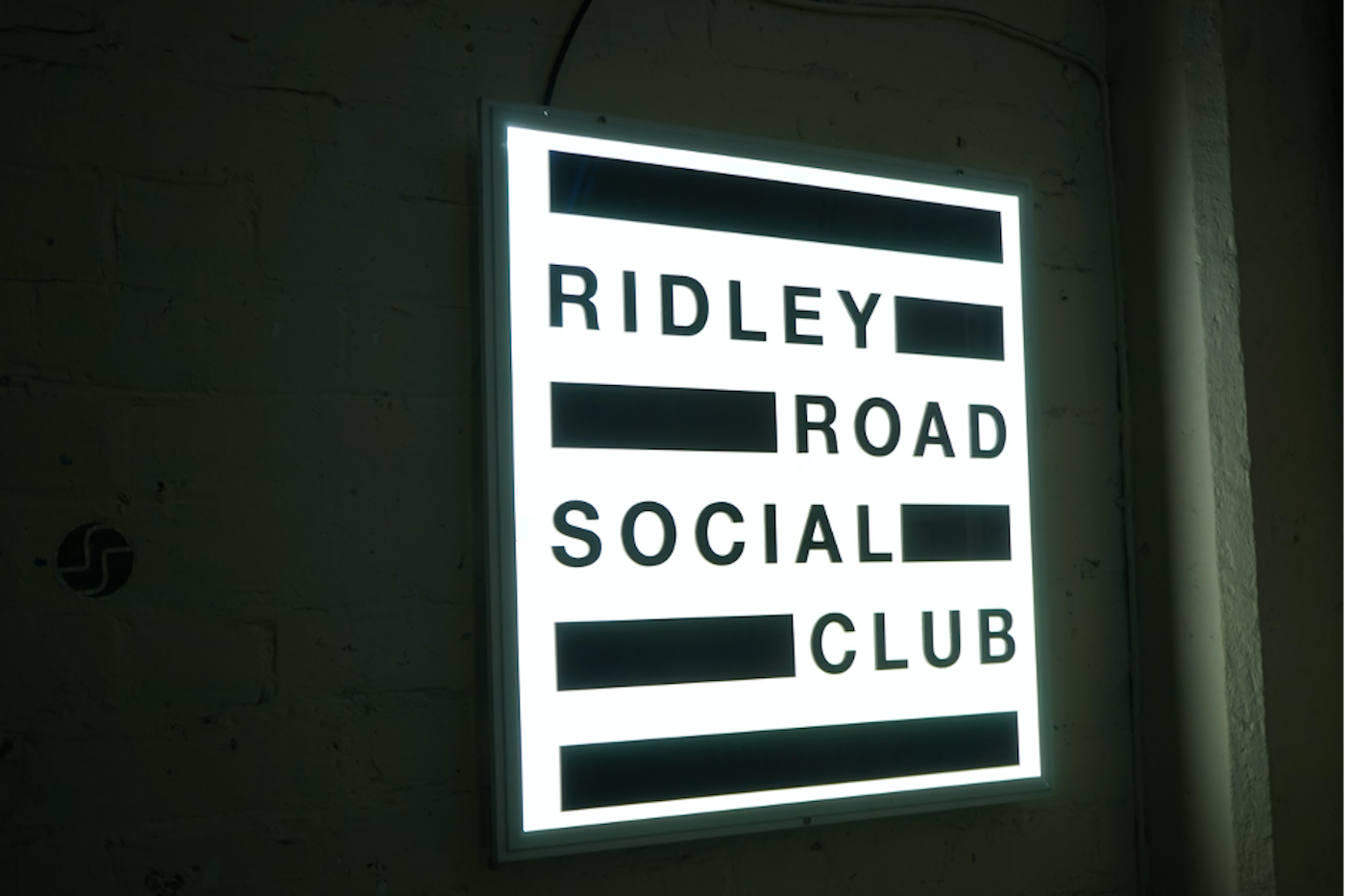 December 2019, White City Campus.
Export Radio was born in the White City campus' cafeteria. A bunch of Experimental Communication students sat together around one of the livid white tables to discuss the community of experimental practice and what could be done to embody it. I must say that this is one of the most vivid memories I have of this 'Golden Era' at the RCA; when we could still access the campus in unrestricted freedom, amidst the whole cohort. The campus was freezing cold due to a frankly nasty heating system failure. Being the only space spared from this condition, the cafeteria was the refuge for (brain)numbed students. Ideas were flying thick and fast in all directions in this gathering space. White City had, in my view at least, this really uncanny feeling. These refurbished BBC premises were disconsolately white, just as hospital corridors - although they were constantly buzzing with a crowd of resourceful practitioners, covering all kinds of surfaces with visuals and occasionally 'painting' inspirational messages on the walls. A mixture of highly antiseptic rooms continuously disrupted by bursting creative energy (this feels cheesy to write about it in such a way, but I can't help the nostalgic feeling here). I remember thinking how peculiar it was not to have a radio station while being located in old BBC radio recording studios.
I decided to share the thought around this cafeteria table. So the idea was born there. With a bunch of experimental practitioners. One of them was getting as excited as me over this idea. Dougal, with his Arcteryx beanie glued on his head, an immense smile on his face and his signature whimsical gaze; would soon become my partner in crime for this project.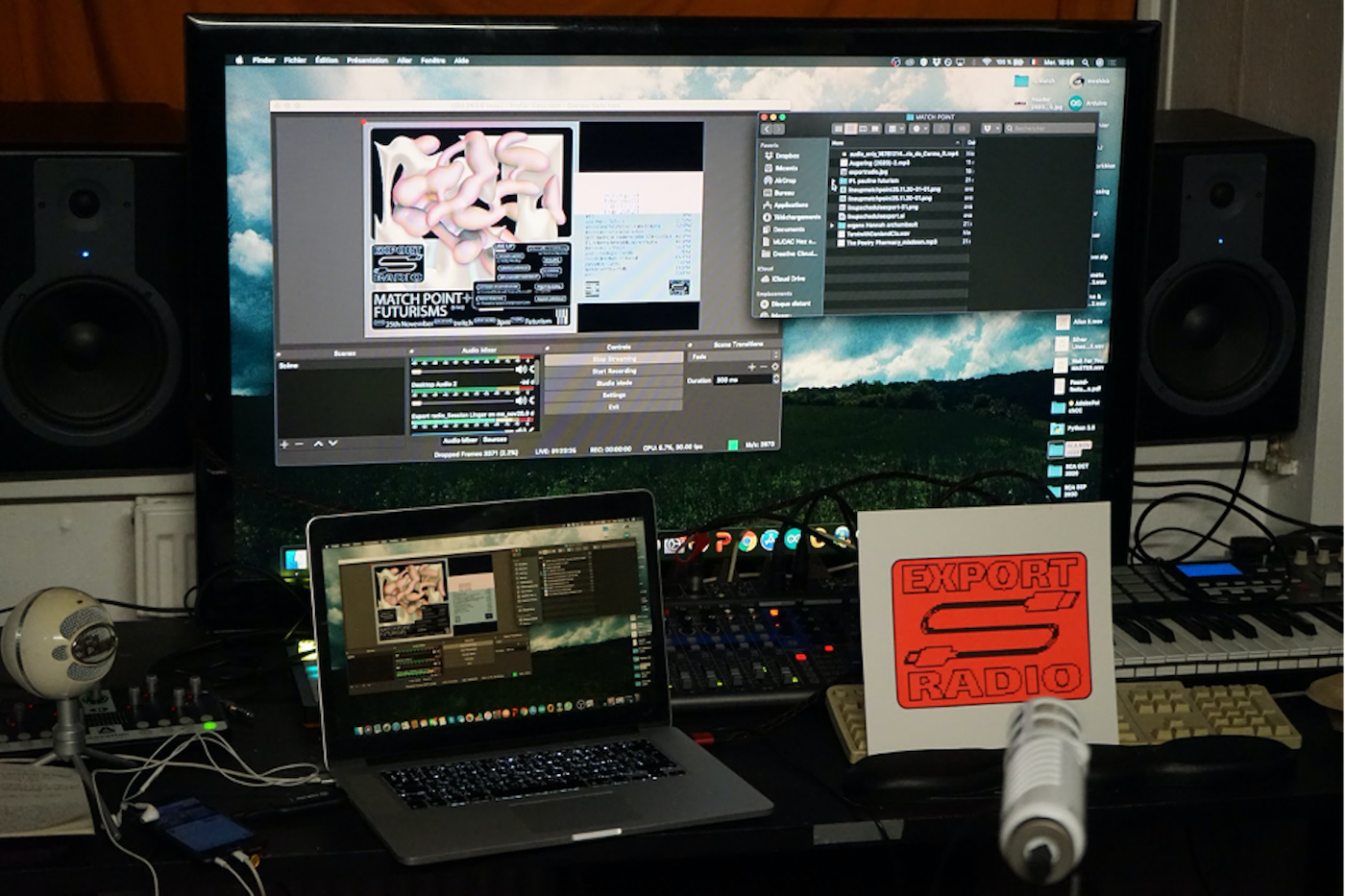 March 2020, my teenage bedroom during The Great Lockdown.
I can say in total honesty that there have been weeks of doubting along the way. I can't recount how many times we just wanted to give up on developing this radio station, almost defeated by the global pandemic. Almost but not totally. People joined in the adventure and left. Others came in and stayed. (Shout out to Carmo, who has been graciously becoming a vital asset to the survival of the team).
We feared the loss of momentum in the growth of the platform. To bounce back from this rather bleak situation, we drew our stamina from a thriving and generous community. The need and legitimacy of Export's existence took form because of our lack of physical interaction. As a cohort we still felt like we had to find other ways to connect. The studios used to be our networking core. These got taken out of our hands, leaving us bare and stripped of all supplies to fuel our artistic practices. We had to look for a whole new 'workshop' to invest. Somewhere to transfer the creative hubbub and talk to each other.
"As experimental practitioners, we do not compromise!" Dougal was reminding me day after day.
We carried on broadcasting. Week after week. Trials and errors became our companions on the route. Our radio broadcaster-amateur-selves were challenged on a regular basis. At times it felt vain to do so, almost like throwing sonic messages in the open air without knowing if anyone would stumble on our soundwaves. But if ONE person was listening then we would have at least reached out to someone else. That's what mattered. And that's the raw beauty of live sound broadcasting. You never know who will hear you.
All the while we kept our expectation levels high. We had to try! The 'World Wild Web' turned into a terrain of exploration and our voices into vessels to reach in and out the RCA community. Eventually Export landed with a clear manifesto emanating from this rocky expedition:
We curate weekly showcases of music, conversation and interview, collected from both RCA students and further afield. Intertwined within the Art/sound scene of today, Export aims to observe experimentation through an International lens. Export Radio represents an opportunity to re-invigorate the public through worldwide collaboration and discussion, building bridges in a post-Brexit, mid-Covid19 environment.
Retrospectively it looks like this journey was a hassle for a while, and yes it was. But we moved on as a team and grew collectively (and still are) from this experience. But hey! All creative processes aren't only glitters and unicorns, even in 2020!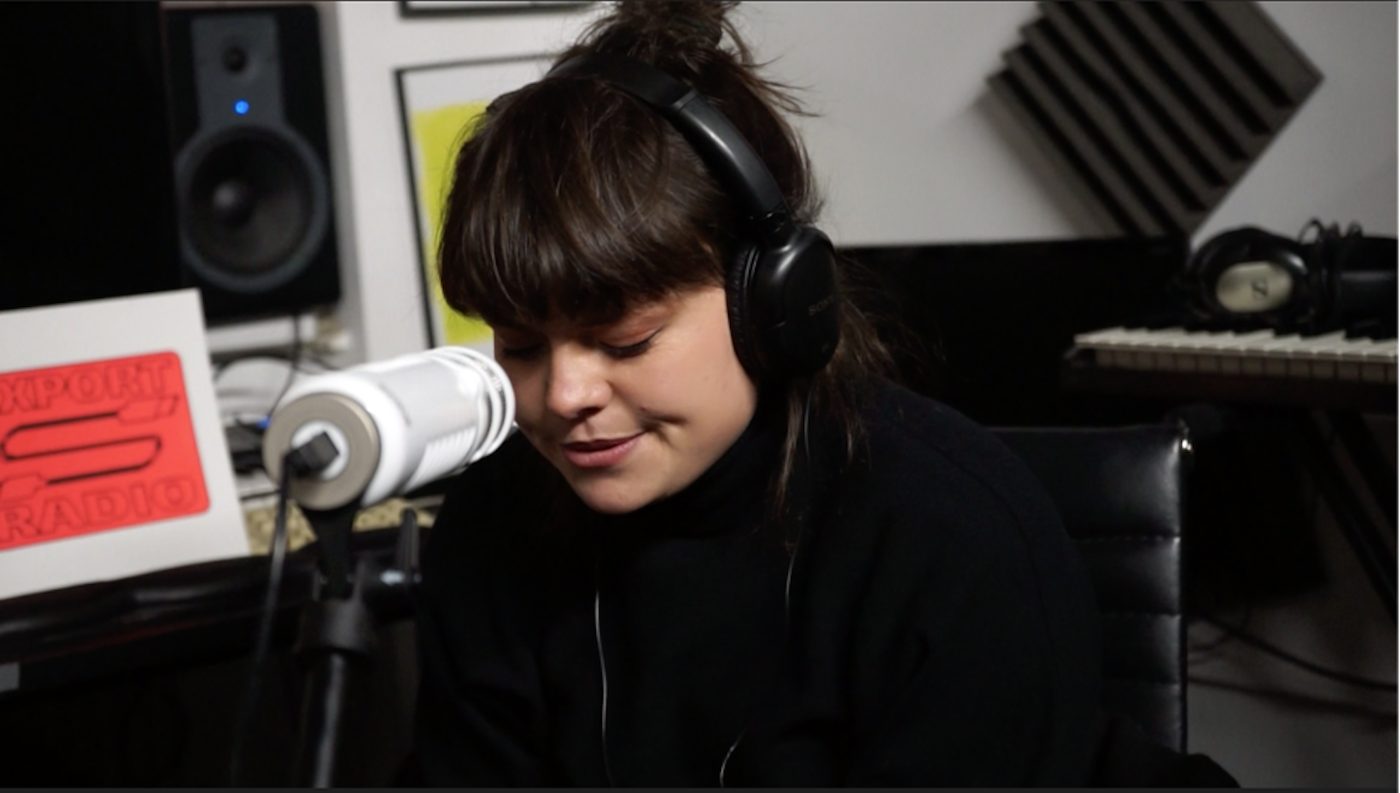 November 25th 2020, Ridley Road Social Club, 8.30pm.
And here we were today.
I will not say that technical struggles of connecting all the mics whilst making sure we would go on air on time was the best part. But almost!
That ecstatic feeling of knowing that in the next instant an unknown audience will hear your voice from an unknown place. Nothing compares!
The place. I think this is what is the most recurrent aspect in this recount. Even if Export was first created as a digital radio station, it became apparent that we needed 'tangible' spaces to anchor it in 'reality'. From White City's canteen to the Ridley Road Social Club. From place to place we settled every time in new transmitter zones, as sound explorers. Of course we could have decided to remain in our rooms, pre-recording shows and distributing them once in a while on Twitch. But this polished version of radio didn't energise us as much. We wanted to learn through the fascinating struggles of sonic work. Shaky voices in the first seconds being live, small beeping sounds of unexpected technical failure, slight delays in recording files… All of which make this radiophonic platform humane and true of its students' experiment's nature.
Today felt like a rewarding victory. After months of fearing the disappearance of a student-led initiative. Here we were, sharing thoughts with creatives from the EU and beyond, performing womxn's empowerment, chanting love and care, discussing the future of Art curation… Such a treat really! But I think, by far, what's most enjoyable about this whole 'thing', is to be able to share it limitlessly. Within and outside the walls of RCA.
I have tried my best to take you through Export's journey from its sonic stutterings to where it resonates today. I will just end this indulgent journal entry by reminding (myself) that we aren't done with this. There is much more to come and this sonic spaceship is happy to welcome you on board anytime!
So until next time…
Tune in soon!
Export Radio xx
Visit exportradio.club and follow @exportradio on instagram to learn more.
Tune it at twitch.tv/exportradio/