Barter Archive
Pat Wong
February 1st, 2021
LAURIE BELLAMY: I WOULDN'T WANT LONDON TO BECOME LIKE EVERY OTHER CITY
My name's Laurie Bellamy and I am 62 years old and I started working in Billingsgate in the previous market in Lower Thames Street in 1979.
I worked for a company called Fisher Brothers when I was young, when I first started. And then I was issued a Porter's license in 1980. I've been a fish porter ever since. I've actually been a porter now for 40 years exactly. Obviously, I've seen a lot of changes in that time. The previous market was a wholesale market, and this market in Canary Wharf was also a wholesale market for a while. But then after a few years, it changed and it became wholesale and retail, as you can see now. So we have the public buying as well as wholesale.
Big changes were made and big changes were needed.
Probably the moment that sticks out the most in my mind is the day we actually moved here, which was in February 1982. And obviously the working conditions in the old Billingsgate fish market were quite primitive and big cobbled hills to pull the barriers up and stuff. So the market had to relocate because of the heavy traffic as well in Lower Thames street. So we moved here, as I say, in February 1982. It's all on one site. So it made things a lot easier. It's all nice and smooth, and on one level. I remember that morning, the trading bell was going and people were cheering and clapping and letting off hooters and stuff. So big changes were made and big changes were needed. So that is probably my standout memory that first day of trading in 1982.
I worked for various companies. I've not just worked for the same company since I've been to Billingsgate. So the companies I've worked for, some sold different products to where I work now for C&A, we sell crab and lobster but I've also worked for companies that sell wet fish, frozen fish. So I've had quite a diverse career in that respect.
I will not think about changing my job now, I've done it for too long now and only being four years away from retirement. I think it's a bit too late in life now to think about changing. No, I've been, on the whole, very happy and I've met some great people and I've made a lot of good friends who I still have to this day. And we've lost a few along the way. But all in all, I can't complain. I've always worked. So I've always had some money in my pocket.
I like the market hall the most.
I like the market hall the most, because that's got the atmosphere and the buzz and you hear all the phones going off and, just a general buzz of having people coming in, talking, bartering, you know, that sort of thing. So out here in the car park, it's just a car park. So all the atmosphere is actually in the fish market itself.
I won't be going to the new market in Dagenham because I shall be retiring before then. But then it's just probably the same as before when we moved from the old Billingsgate to this market. It's a move that's needed. It's outgrown itself. And also the area now is a lot different to when we first moved here in those days in 1982, there were no banks, there was nothing. This was just a huge open space. So we were here first. But obviously over the years, Docklands has developed into another international hub of commerce and trade and stuff. So we're really not really needed here. So plus the market now is a bit run down and so a new market is needed.
Sammy the seal was well loved
Sammy the Seal is here for about 20 years. He died. We're still not sure to this day whether it was a boy or a girl. So he was called Sammy. Everyone knew him as Sammy. He unfortunately died just over a year ago. We heard. But he loved it here. Obviously, for all the years he was here, he was fed fresh fish every day. People used to bring their children to see him and he was as well known as the market itself. And he was well loved. But as I say, unfortunately, now he's gone and maybe another seal will come one day. You never know. You never know.
About the skyscrapers surrounding the fish market, I think it's just development, basically. Now I go back to what I was saying just now about us being here before all that was built. It's just a necessary thing we move because these banks and stuff now are just expanding out further and further and further. Obviously, this land that we're on now is worth probably quite a lot of money, I would think. And I would think that after we go, there will be another skyscraper here.
I think London will lose its character.
And if it was my choice, I would leave the market here and not have another skyscraper because I wouldn't want London to become like every other city, with just full of tall buildings. I think it will lose its character. You know, it'll end up looking like maybe like New York or Shanghai. They're all beautiful cities. But London never used to have any, hardly any tall buildings, when I grew up. So I prefer it that way. But that's progress. I can't stop it. So let it be, as I say.
I gave you an original fish porter's badge that was issued by the City of London Corporation right up until about 10 years ago. But after that, the market was deregulated, so those badges became obsolete. So I gave you one of my old ones for you to keep. And I believe you wanted to know about my grandfather. He was a fish porter for over 50 years.
He retired in around 1980. His badge was first issued in 1932. So he was the first in our family to be a fish porter. But I also had an uncle and I've got a couple of cousins who were also fish porters. But as I say, about 10 years ago, they deregulated the market. So those licences were no longer needed.
We all still stick together like we used to.
Compared with the London Bridge fish market, it was just the same. There were no new licences given out. They were just, we just came here to work. It was just a different market. We were still licensed at the time by the Corporation of London, as I said, until about 10 years ago.
The atmosphere was a lot better when the market had licensed fish porters. The camaraderie, the fun, even though we worked hard still, has all gone. People from all walks of life now come into the market and just bring their own trolleys and barrows now and take their own stuff. It's not like the old days. The camaraderie is gone.
Just basically, we were like a huge, all the fish porters in Billingsgate, were like a huge family, but now most of them are gone. When they deregulated the market, there were over 100 porters. Now we're not called porters anymore either. But now there's only, from the original ones, there's about 25 left. So we all still stick together like we used to. But obviously, we're just a small band of people now.
---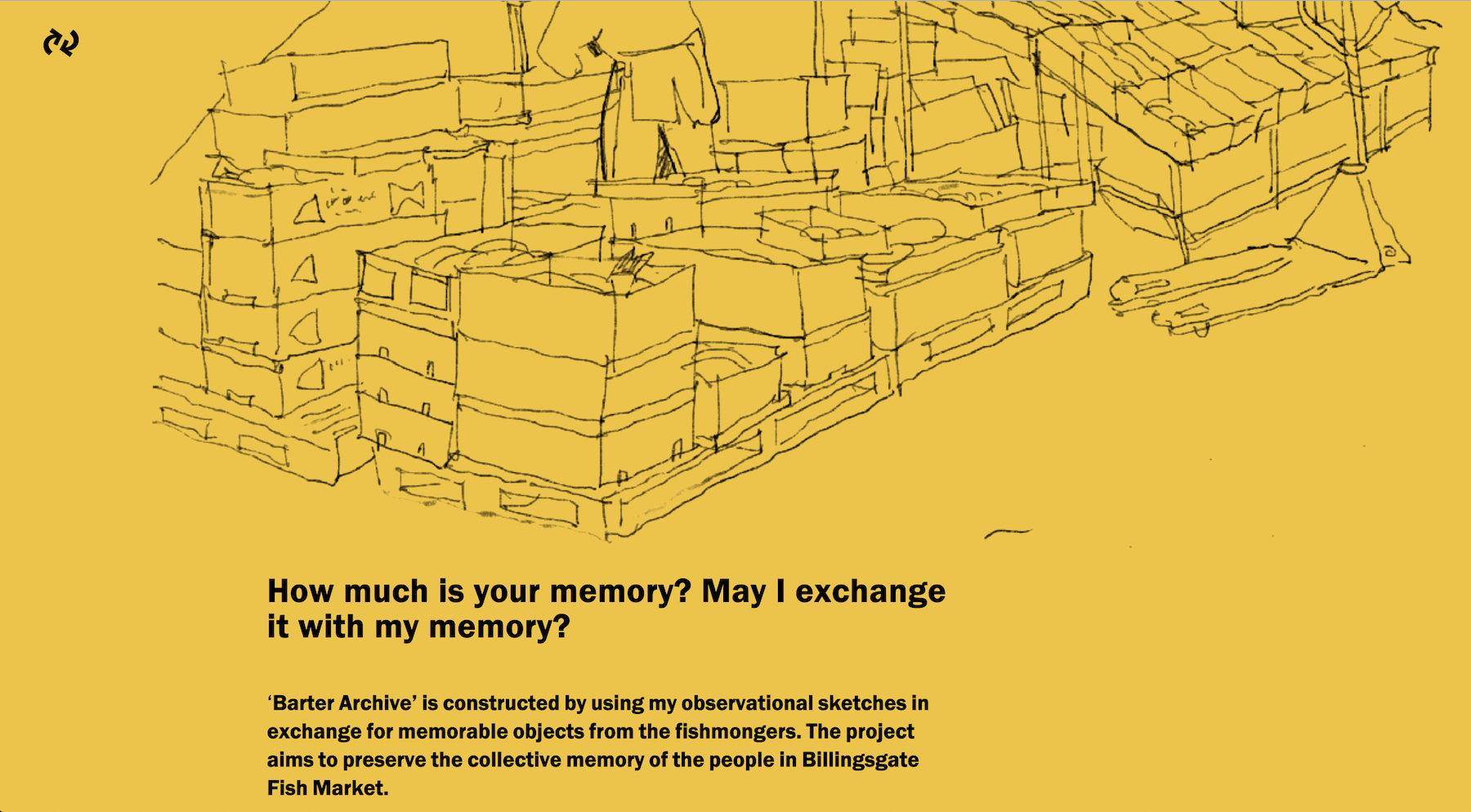 View more works on the worksite www.barter-archive.com
Project directed by @flyingpig.pat (@barter_archive)
Website designed by Max Kohler
Curated by Sandra Lam
Special thanks for the Varley Memorial Award for supporting this project.