Export Radio in The Planning Stage – Aka: My favourite
Carmo Ravara Pinheiro de Melo
March 1st, 2021
Hello my lovers, this month we Exporters have been considerably more organised than before. After the avalanche that was WiP2021 and our 24h run we realised that maybe our WhatsApp group needed a break.
There were some conversations on how we wanted to balance our personal lives, our professional practices and our Export duties. Deadlines were coming ahead and we wanted to be prepared for what the future held, so we stopped having sporadic moments of panic which demanded the need to meet every other day. We started having weekly meetings on Mondays, and planned them so we could organise ourselves better (this was definitely an improvement and we all agreed)!
We have new collaborations and shows, our schedule is now almost non-stop. Our partnership with Scrawl (Writing MA) and our DJ community made Export alive and kicking like we always wanted to! It warms our hearts to know that more and more people are interested in exploring sound with our experimental radio platform!
Basically, Export boomed. Emails are constantly coming in with people who want to get involved and our DM's are flooded with support and love from our community! We couldn't be more happy that this project is finally gaining legs and expanding! We even gave an interview: intranet.rca.ac.uk/get-know-export-radio/. Let's just say that just like many of us (myself included) export has gained some weight during lockdown :)
Our visual team gained a new member that will hopefully expand and bring some fun variety to our graphics here at Export Radio! Michelle is a future student of the RCA that was keen on getting involved! Our graphic king Dougal passed some of his workload and we have every faith that together they will come up with more fantastic visuals for us! Keep an eye out on our instagram to see how this work is coming along!
Once our headspace was a little more clear and we started to look ahead, things definitely got excited! We can't wait to share with you our amazing, most dazzling, spectacular, brutal and filled with sass final project for Export radio.
It's something we have been planning for a while and it is now starting to take form! From the time we won the Varley Awards to now, we have been planning to produce our very own CD.
But before we could do anything, there was a lot of planning. This is what we've been doing for the last few weeks, from finalising what we wanted to do, to figuring out the specifics of where we could produce this. In between emails and quotes, preparations have started. Each CD will come with a sleeve and a booklet included, there is not a lot I can tell you but I can leave you some of our thoughts on paper… Always aiming to keep the mystery and leaving you wanting more!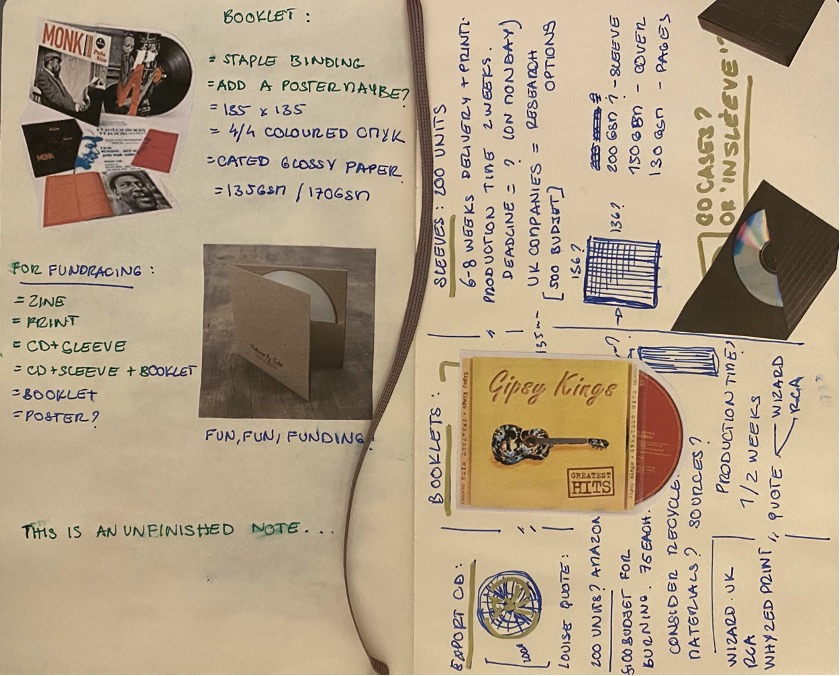 Stay tuned for news :)
Carmo at Export Radio