Sanitiser on Toast: Visual Vaccine #1 with Lucienne Roberts
10:30 – 12:30
2nd February 2021
Public
Online
Sanitiser On Toast is a graphic novel anthology inspired by the isolated experiences of the global lockdown. it documents 12 RCA international students' mental and physical journey during the covid-19 outbreak. @sanitiser_on_toast
Sanitiser On Toast: Visual Vaccine, is the two-day-drawing-workshop which provides a testing ground for visual interpretation, narration, speculation and mediation.
The first visual vaccine will be injected to testify the correlation of visual interpretation and personal recognition. We will have Lucienne Roberts (2nd Feb) as the visual scientist to lead the healing process on the first day. Joe Kessler (4th Feb) will inject us with the second dose of vaccine by showing his practice in comics, inspire us to join in on a journey of narrative drawing workshop, where we create, break, distort, erase and duplicate comics, in a collective way.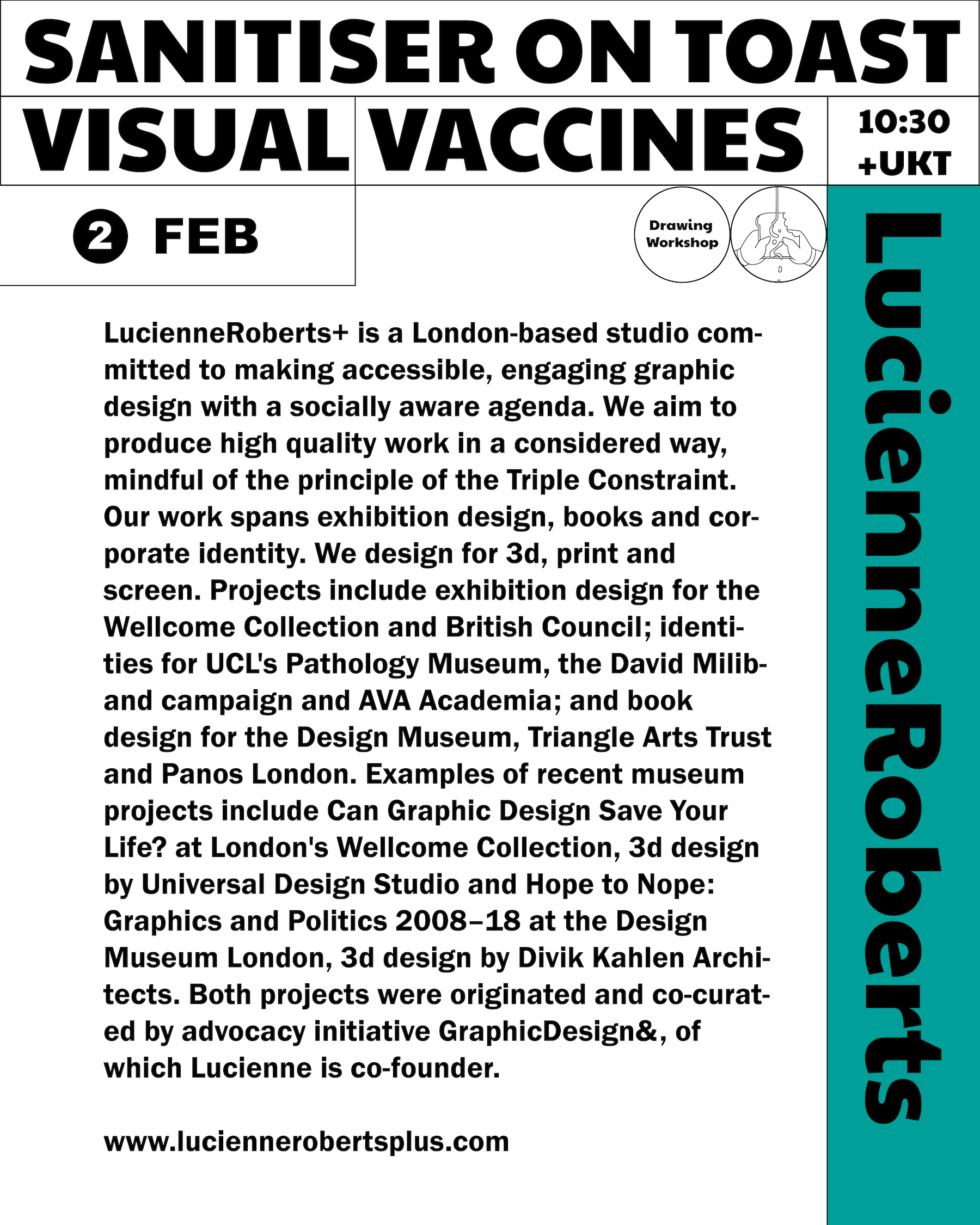 LucienneRoberts+ is a London-based studio committed to making accessible, engaging graphic design with a socially aware agenda. We aim to produce high quality work in a considered way, mindful of the principle of the Triple Constraint. Our work spans exhibition design, books and corporate identity. We design for 3d, print and screen. Projects include exhibition design for the Wellcome Collection and British Council; identities for UCL's Pathology Museum, the David Miliband campaign and AVA Academia; and book design for the Design Museum, Triangle Arts Trust and Panos London. Examples of recent museum projects include Can Graphic Design Save Your Life? at London's Wellcome Collection, 3d design by Universal Design Studio and Hope to Nope: Graphics and Politics 2008–18 at the Design Museum London, 3d design by Divik Kahlen Architects. Both projects were originated and co-curated by advocacy initiative GraphicDesign&, of which Lucienne is co-founder.
Get your ticket on the School of Communication Eventbrite