Sanitiser on Toast: Visual Vaccine #2 with Joe Kessler
10:30 – 12:30
4th February 2021
Public
Online
Sanitiser On Toast is a graphic novel anthology inspired by the isolated experiences of the global lockdown. it documents 12 RCA international students' mental and physical journey during the covid-19 outbreak. @sanitiser_on_toast
Sanitiser On Toast: Visual Vaccine, is the two-day-drawing-workshop which provides a testing ground for visual interpretation, narration, speculation and mediation.
The first visual vaccine will be injected to testify the correlation of visual interpretation and personal recognition. We will have Lucienne Roberts as the visual scientist to lead the healing process on the first day. Joe Kessler will inject us with the second dose of vaccine by showing his practice in comics, inspire us to join in on a journey of narrative drawing workshop, where we create, break, distort, erase and duplicate comics, in a collective way.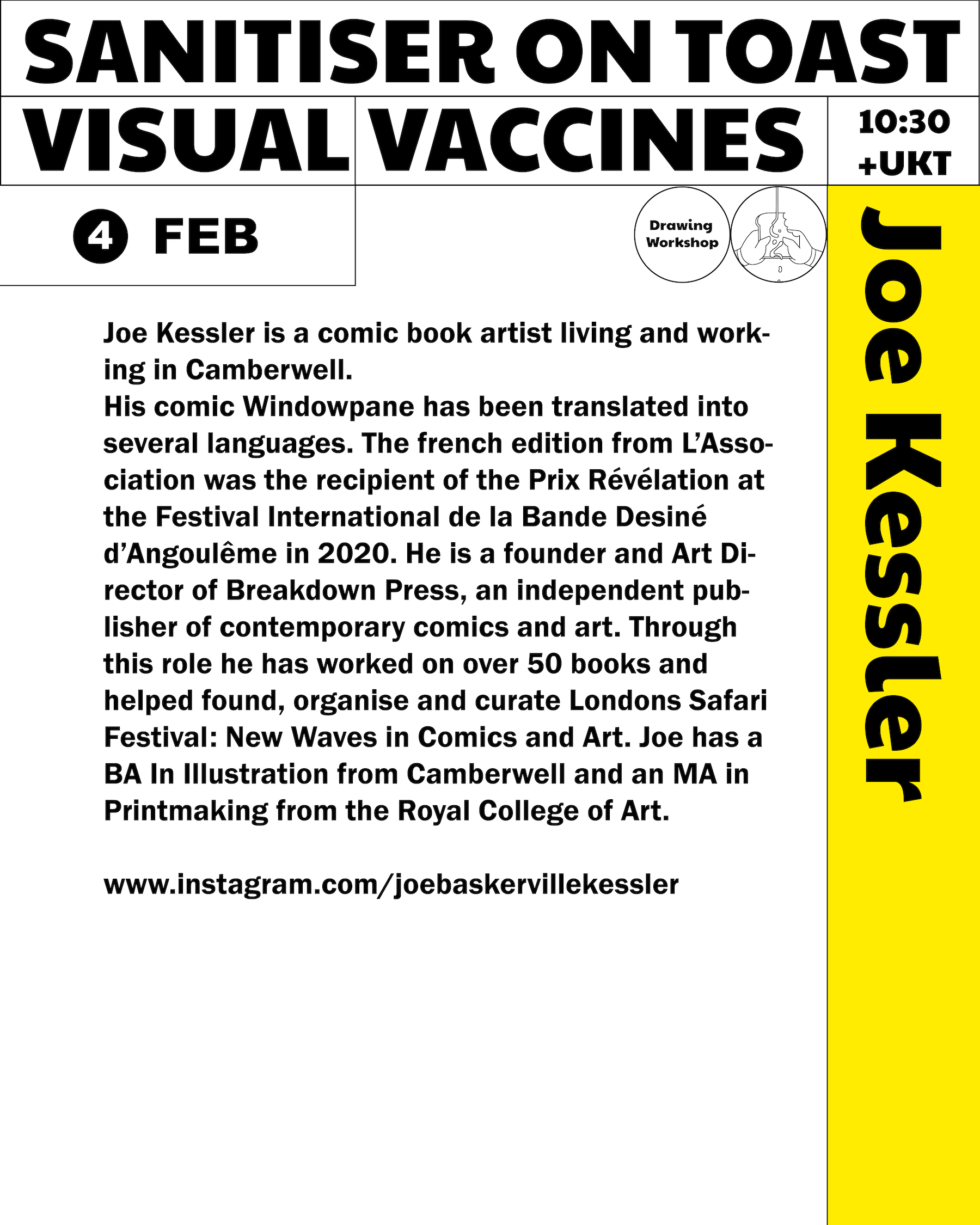 Joe Kessler is a comic book artist living and working in Camberwell. His comic Windowpane has been translated into several languages. The french edition from L'Association was the recipient of the Prix Révélation at the Festival International de la Bande Desiné d'Angoulême in 2020. He is a founder and Art Director of Breakdown Press, an independent publisher of contemporary comics and art. Through this role he has worked on over 50 books and helped found, organise and curate Londons Safari Festival: New Waves in Comics and Art. Joe has a BA In Illustration from Camberwell and an MA in Printmaking from the Royal College of Art.
Get your ticket on the School of Communication Eventbrite